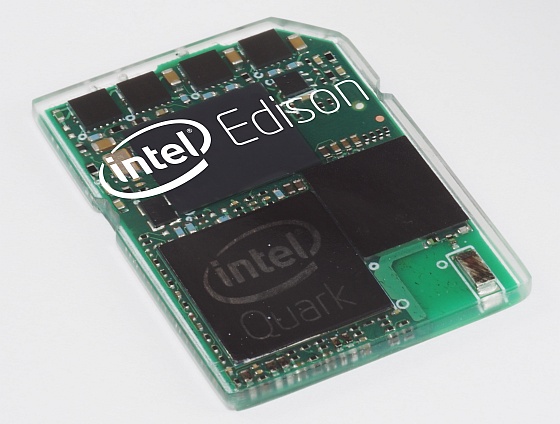 American Chip maker Corporation Intel has launched a new computer device named Edison for storing the processor used for wearable technologies. And don't ask about its size, it's even smaller than an ordinary SD card you put in your cameras.
Excited to know more? Keep Reading...
After developing processor for wearable devices, Intel has added another feather to its cap by launching Intel Edison, a miniature ultra power-efficient development platform which can be stuffed inside any system.
And by system, we mean not just computers, laptops, tablets and smartphones, but also watches, coffee mugs, handbags, t-shirts & almost everything else you can think of.
The Intel Edison board exhibits a low-power 22nm 400MHz Quark processor with two cores. It also includes integrated Wi-Fi and Bluetooth options. Not just this, this tiny board has its own app-store and in-built Wolfram Alpha's Mathematica.
Combining small size and low-power with rich technology is what makes the Intel Edison board all the more superior.
Edison was introduced to the world at CES 2014 by Intel's CEO Brian Krzanich who said "Wearables are not everywhere today because they aren't yet solving real problems and they aren't yet integrated with our lifestyles."
"We're focused on addressing this engineering innovation challenge. Our goal is, if something computes and connects, it does it best with Intel inside.", he added further.
The displayed live example of Edison was The Mimo Baby Monitor, a tiny toy-frog attached to little baby's dresses which analyses, stores and informs about the temperature, breathing, sleep and day-night activities of the child. After the signal is interpreted, the particulars are sent to a coffee cup that displays breathing patterns and other notifications which alert if a child is unhappy.
Krzanich also announced a global "call to innovation" with Intel's "Make It Wearable" challenge. The challenge calls for new ideas and innovations in wearable technology from all over the world.
The grand prize is $500,000, and it will have $1.3 million in prizes altogether.
If you liked this post, you can further join our talks @ Facebook.
Or you can share your thoughts with us by commenting below.