And finally 2014 has arrived, targeted for great launches & inventions, new designs & creativity and of-course, more improved technology!!! So, let's have a look on the upcoming smartPhones of 2014 which have already started spreading their strong essence...
Though 2013 excited us with some of its fireworks like Galaxy S4, iPhone 5, HTC One, LG G2, Nokia Lumia series and Galaxy Note 3, we badly missed few innovations like 4G, Curved phones, improved optimization for gaming and ofcourse, superior performance.
All smartPhones giants: Samsung, Apple, HTC, Nokia, Motorola, Sony, LG are ready to launch their best products to uplift their presence in the 2014 smartphone market. Have a peek on the best in the smartphones' market for you in 2014....
10. Huawei Glory 4
Huawei has entered the gossips and discussions with the announcement of its new Octa-core smartphone named as Glory 4, grabbing the tantalizing tenth position in the list.
The glorious smartPhone is quite popular in tech-talks these days because of its "The World's First Octa-core" processor, MediaTek's MT6592. Though a budget phone, it is believed to be a very powerful device with exceptionally brilliant specifications like 2 GB RAM, 16 GB Internal Memory, 13 MP Rear Camera and Android 4.2.2 JellyBean OS. Though no details are confirmed about screen size, it is rumoured to possess a 5.5" display with 720p resolution. There are no official reports about price, but it might come well within Rs.9000.
9. LG Nexus 5
Following the popularity of the Nexus series, Nexus 5 has also created huge buzz in the market with its stunning looks and lustful specifications.
Nexus 5 is powered by Android's latest 4.4 KitKat OS, upgradable to v4.4.2 . The slim and sleek design adds to the charm. It features 4.95 inches 1080 x 1920 display with True HD IPS+ capacitive touchscreen. With a 2.3 GHz Quad-core processor and 2 GB of RAM, the smartPhone stands high in terms of performance. An 8 MP rear camera, packed with AutoFocus, LED Flash & 1.3 MP front-camera gives you great snaps. It comes in options of 16 GB or 32 GB internal memory options and is already available on the Google Play Store @ Rs. 28,999.
8. Samsung Galaxy Win Pro
Want a budget phone with elegant features? Your search will surely end at Samsung Galaxy Win Pro.
Samsung is all set to give tough competition to brands like Micromax, Sony, Xolo in the budget-phone category with its latest Win Pro, possibly launching in the mid of January 2014. Stuffed with a 1.2 GHz Quad-core processor, 1.5 GB RAM and Android 4.2.2 JellyBean OS, the phone will definitely find its way in gossips and pockets.
Other specifications include a 4.5" display, 5 MP camera with Flash, and an 8 GB internal memory. The smartPhone comes in Pearl White and Noble Black colors and may be priced at around Rs. 11,500.
7. Nokia Lumia 1320
Fortunately, after the Nokia-Microsoft deal, we see a good number of Lumia phones in the public. To broaden the series further, Nokia has announced its Lumia 1320, possibly launching in India by the end of January 2014.
Sleek & stylish yet compact, Lumia 1320 is a real attraction, thanks to its 6" IPS LCD display and 164.2 x 85.9 x 9.8 mm dimensions. Loaded with Windows Phone 8 OS, the phone runs on Snapdragon Dual-core 1.7 GHz processor along with 1 GB of RAM. It has 8 GB inbuilt memory and has expandable memory options upto 64 GB. Shaped with 5MP camera, AutoFocus, LED Flash, and many extra features, the phone is a great snapper. Lumia 1320 is available in four colors (White, Black, Yellow, Red) and is expected to be priced at around Rs. 22,500.
6. HTC M8 (HTC One 2)
Tagged as "HTC One 2" and "HTC One+ " among the chatters, the upcoming HTC M8 is said to be the sequel of the popular HTC One.
Since there isn't any official announcement, lots of rumoured concept pictures, names and features are flowing through the internet.
HTC M8 will feature a Full HD 5 inch screen ,Android 4.4 KitKat OS & a 2.3 GHz Snapdragon 805 processor packed with HTC Sense 6.0. It might come up with 2 GB of RAM, 8MP of Ultrapixel camera with switch-able lens and 32 GB as the internal memory. Though, there are no signs of launch date and price-tags, we expect it to be launched in February-March 2014, in the price range of Rs. 49,000-54,000.
5. LG G Flex
As the name suggests, the LG G Flex is going to be the first curved phone from the South-Korean smartphone brand.
One of the first devices with curved display, the G Flex uses OLED technology to shaped out a curve along the side. It is just 8.7 mm thick upholding the 6-inches screen with 720 x 1280 pixels resolution. In the box is Android v4.2.2 JellyBean, 2.26 GHz Quad-core processor, 2 GB RAM, 32 GB Internal memory (no choice of external memory) and 3500 mAh battery. The phone also has a 13 MP rear-camera (AF w/Flash). It may be launched in India in March 2014, very well within a price of Rs. 48,000.
4. Motorola Moto X
The awesome after-effects of the Google-acquiring-Motorola can be seen evidently in the all new Moto X.
Moto X is the perfect tech-friend of its user. It responds to your voice, it will turn the camera on if you twist your wrist. It fits great in hands with its curvy, slim and compact design. Moto X possess a 4.7" Amoled 720p HD screen, Android JellyBean v4.2.2 and 1.7 GHz Dual-core CPU. It also features a 10 MP camera (AF w/Flash), 2 GB RAM and 16 GB internal memory. This award-winning smartPhone will be made available in Jan-Feb 2014 at around Rs. 26,500.
3. Samsung Galaxy Round
And so finally, the phone which will possibly make it too large, Samsung's first curved smartPhone : Galaxy Round.
The device presents "World's first commercialized full HD Super AMOLED flexible display", a 5.7" display screen. As a result of its unique curved design, users can take advantage of round integration experiences like the Roll Effect that enables user to check information such as date, time, missed call and battery easily when home screen is off, and the Gravity Effect for creating visual interaction with the screen by tilting the device.
It is packed with a 2.3 GHz Quad-core Krait processor, LTE Network, 3 GB RAM, 32 GB Internal Memory, and Android v4.3 JellyBean OS. The smartphone is featured with 13 MP rear-camera (AF w/Flash) , 2 MP front camera and countless shots, modes and effects.
You can enjoy various features like Multi-window, Story Album, Samsung KNOX, Samsung Voice Hands Free and many other Samsung's optimized features.
The gadget is available in Luxury Brown variant and maybe launched at around Rs. 59,000.
2. Apple iPhone6
Not a surprise, iPhone 6 deserves its position. Positively because it's an Apple product and Negatively because it is assumed to destroy many far-sighted expectations.
Ofcourse, since we are talking about Apple here, nothing is for certain. There are various rumours, reports and leaks about the name, specs, screen and design of Apple's next sultry smartPhone.
Most importantly, iPhone6 will be the thinnest from the Apple factory, measuring just around 6 mm deep. It will be made of metal, bit on the heavier side as compared to iPhone 5S and iPhone5. We also expect an all new OS to amaze us, iOS 8. There will be a 5.7-inch phablet-like screen covered with Corning's Gorilla Glass. It also features a TouchID Fingerprint Scanner. There might be a TSMC's 20nm A8 processor. Other features and price are still not confirmed but there might be a chance of its launching in September 2014.
1. Samsung Galaxy S5
And the Finest First position is, undoubtedly, bagged by the worthy successor of the "S" Series from Samsung, the Samsung Galaxy S5!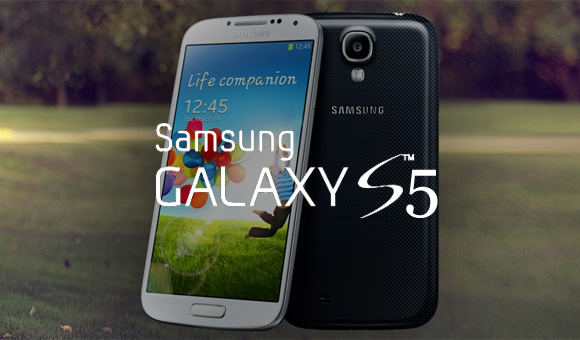 The advancing Mobile World Congress (MWC, to be held in Spain from 24th to 27th Feb.) will see the launch of the hottest smartphone of the year 2014.
S5 will have a 5.25-inch Quad HD display
powered with 64-bit Exynos 5430 Octa-core processor. Photography-lovers can also snap superb shots with 16 MP ISOCELL back camera and 4 MzP front facing camera. Other features include 3 GB RAM, Adreno 330 GPU and longer battery life. Samsung Galaxy S5 will be packed with the latest Android 4.4 Kitkat OS! It will possibly be launched in May 2014.
So, summing up our post, the top best smartphones (rank-wise) of the year 2014 :-
Samsung Galaxy S5
Apple iPhone6
Samsung Galaxy Round
Motorola Moto X
LG G Flex
HTC M8
Nokia Lumia 1320
Samsung Galaxy Win Pro
LG Nexus 5
Huawei Glory 4
Time for you to shoot your comments about products I missed & your thoughts on this post.